Making and buying Christmas gifts
Friday, December 14, 2007
It's been a while since my last Issen post. Got busy doing Christmas stuff like getting gifts for the family.
I don't really give out presents every year because like I said, I'm not really a Christmas-y person. But this year is different. I'm not off buying fancy stuff for every single person I know because we haven't recovered yet from our recent financial struggle (flashback
here
and a bit more
here
).
Instead, I decided to make use of what little "talent" I have in graphic design and came up with this.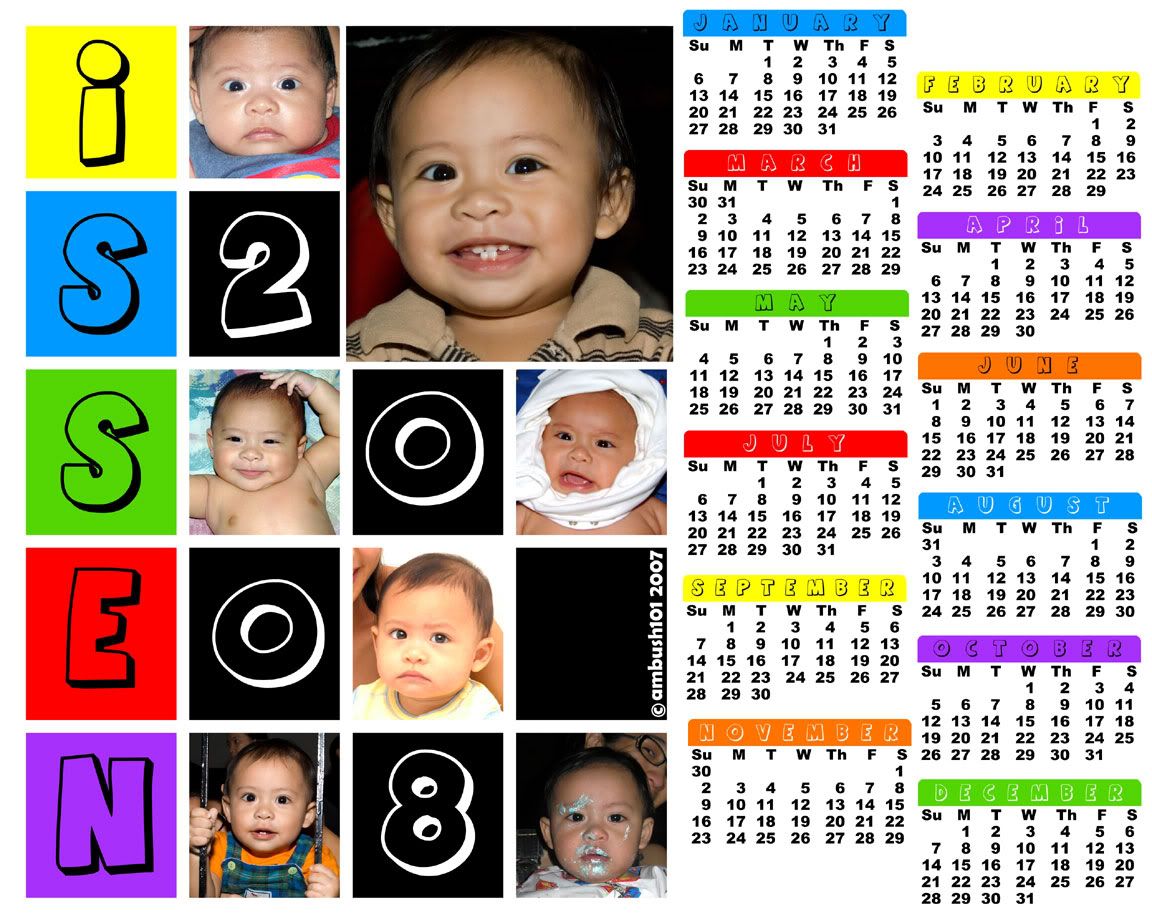 I did the collage on the left weeks ago for myself. I wanted to have it printed and framed. I just had this idea to use it for the calendar. I had it printed at a local photo studio in 8R and 5R sizes. It will be my gift to some family and friends. At least, those who I know will appreciate my son's charm.
I can give out copies to anyone who want one, just let me know what size you want. Better yet, I'll give you the JPG file and you can have it printed yourself, letting me save from printing fees. Hehehehe! Just kidding.
For my parents and brothers, I made something that I'm sure everyone (in the family) will appreciate.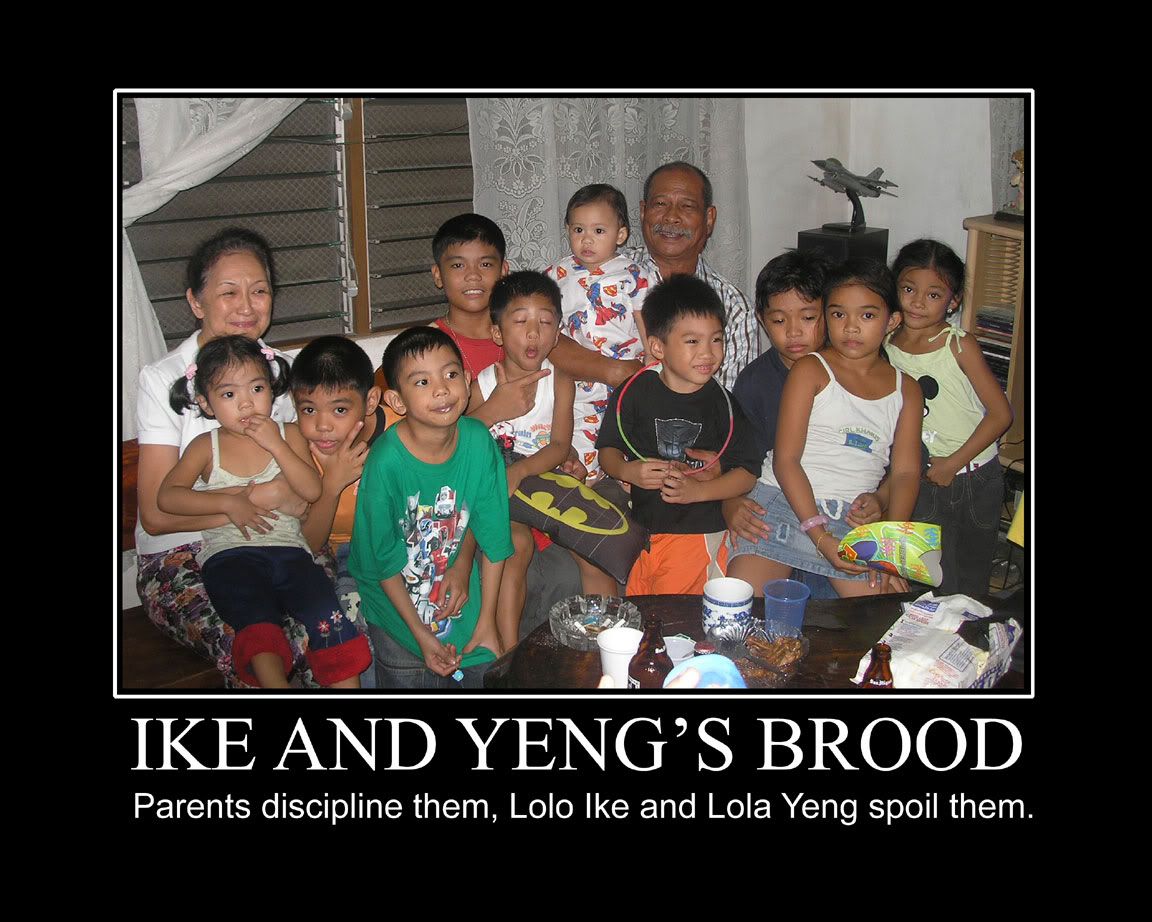 That's actually one of the pictures taken on Issen's birthday. All of my parents' grandchildren are there and they looked happy. I made it into a motivational poster and had it printed in 8R photos. I'll just attach monthly calendars below and voila! Instant useful gift. By the way, the monthly calendars I'm printing are marked with everyone's birthday and wedding anniversary. Everyone in our immediate family at least.
Also, I've been a regular again at Ebay.ph since I decided to buy something for my nephews and nieces. I can't find anything within my taste and my budget at the malls and I'm in no shape to brave the wonder called
Divisoria
, which is considered as the shopper's heaven in the Manila, so I took advantage of the other wonder called
online shopping
. And boy did I get a lot of nice presents for a low price, in the comfort of my desk. And I don't have to go around lugging heavy bags as my purchases will be delivered right at my doorstep. Very convenient indeed.
I discovered and got hooked on online shopping last year, back when I was still pregnant with Issen. I was able to lots of stuff for Issen that time, really cute and inexpensive ones. It didn't matter to me that most of them are second-hand because I had no intention of spending so much on something that my son will use only for a couple of months. Besides, I was picky with the items I purchased.
Anyway, I found more stuff for Issen again this time. I got him playclothes that are brand new but are sold in very low prices as they are export overruns. I also got him pajamas for only Php10 a pair! And other stuff.
That's it for now. I didn't reaize it's so late already. I have to get up extra early tomorrow (or later, as it's way past midnight already) to prepare breakfast for Mr. Frost. He has to undergo a laboratory procedure in the afternoon that required fasting from 8am till 4pm, and the only way I got him to get on with the procedure is my promise to prepare his heavy breakfast.
Mr. Frost is making me practice the "art of bribing," telling me I'd definitely need that for when the kids grow older. Mr. Frost's and my genes are lethal when combined, and since they are defintely well-blended in our children's DNA, we're already preparing for the worst.

's thoughts were ambushed at
8:25 PM