Our little fighter
Wednesday, October 24, 2007
Finally, after almost a week in confinement, the doctor sent us home. We were discharged last Monday, October 22.
I have to admit that being able to go home is a big relief for me, on many levels. I just came from a one-month bedrest to ensure the safety of my second pregnancy. I cannot bear to leave Issen at the hospital even for an hour. Even if I was feeling weak from lack of sleep and other pregnancy-related causes, I stayed with Issen and made sure he's as comfortable as possible.
Issen is getting better now. His appetite has greatly improved. His energy was unchanged during this whole ordeal, except for the night we brought him to the hospital. Take a look at the kid on our first morning of confinement.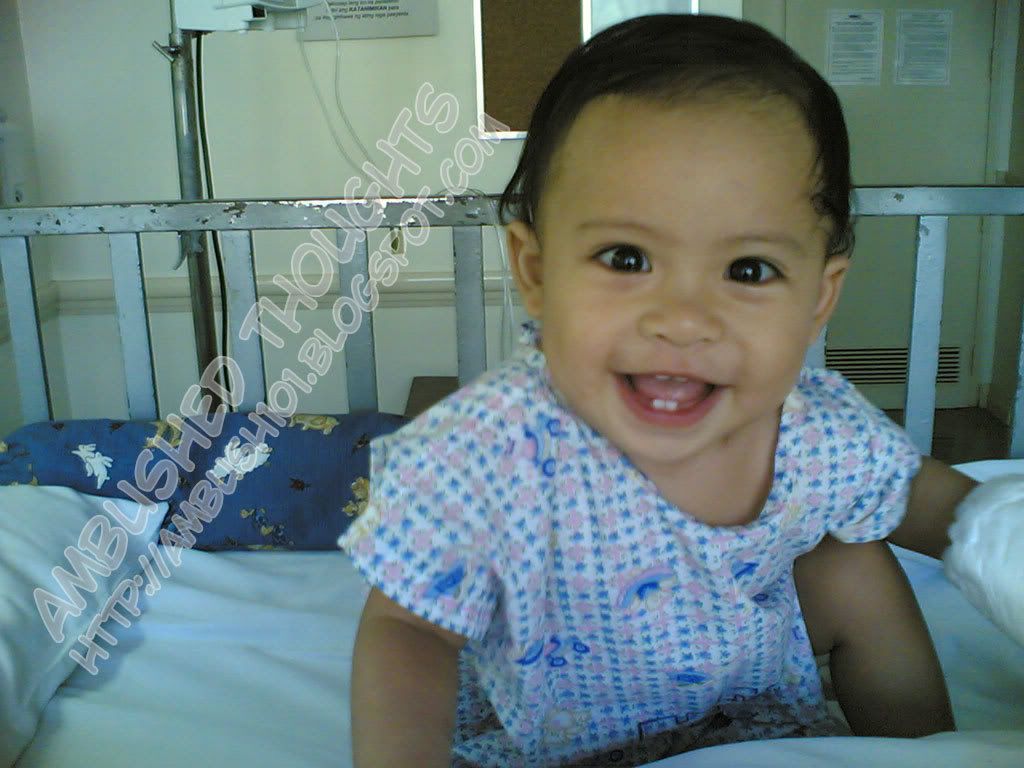 Doesn't look like a sick kid, does he?
Actually, his energy, as much as we're thankful he wasn't sick enough to lose it, caused some problems. As you can see in the pic above, his IV was inserted on his left hand. Thursday evening, his IV was leaking. The nurses checked his tubings and found out that the needle was bent. They removed the IV and he slept free from tubings and needles that night.
The next morning, a doctor came along with a couple of nurses and inserted an IV in his left foot this time. By Saturday evening, the tubings got loose again and they had to reinsert the needle again. The doctor inserted it back to his left hand.
All because he won't stay put in the crib. I guess he didn't really feel sick, so all he wanted to do was explore his little kingdom of a hospital crib. Typical.
Needless to say, my heart breaks every time Issen cries because of the IV insertion.
He gives me this look that seems to say, "Why are you letting them hurt me, Mommy?"
And what makes it hurt more is that fact that I can't to anything to stop him from hurting. Ugh, I can't bear to think of those memories again.
What I'd love to recount, though, are the instances that showed Issen's strength of character.
While in the emergency room, a nurse was supposed to give Issen a skin test bu injecting a drug of some sort in his skin. Issen was sleeping, but the nurse went on and stuck the need up his right forearm. Naturally, the poor kid woke up in pain and screamed at the top of his lungs. The nurse, surprised by his strong resistance, accidentally let go Issen's arm, removing the needle from his skin. So she inserted it again and successfully injected the medicine into his skin. After she administered the skin test, the nurse simple walked away to her station. Issen, still screaming and crying, followed her with looks as sharp as daggers. Then he raised his affected fist and waved it frantically at the nurse's direction, as if saying, "I won't let you get away with that!"
. Mr. Frost and I couldn't help but laugh at Issen's display of emotion. We are so proud of him.
Another is at one time when his IV was inserted in his left foot. He had just threw up all over the bed and on the diaper protecting his IV insertion. I called th nurse to help us change the diaper. I didn't risk doing it on my own lest I mess with the IV and end up hurting Issen. When the nurse entered the room, Issen stopped playing and looked at the nurse suspiciously. When the nurse reached for his foot, Issen suddenly screamed and literally hit the nurse's hand repeatedly, as if saying "Oh no, you're not touching me with those filthy hands!"
The nurse was surprised, looked at me, and laughed. "Tapang ni baby ah!" (
"Baby is so brave!"
), she told me.
There are several more instances, but just like the ones I've mentioned, it's either you had to be there or at least you had to hear the story from me personally to appreciate it.
Just the same, Mr. Frost and I are so proud of how Issen reacted to certain "hostile" instances during this ordeal. At this early stage, we discovered that our little boy is a fighter, just like his Daddy and Mommy. Oh, he'll go a long way.
Our heartfelt gratitude to everyone for the prayers. To my
N@wie
sisters, thank you for the words of encouragement and moral support. Special thanks to our officemates and friends,
Pam
and
Joie
who went out of their way to visit us at the hospital. To codename
Qadaffi
, the same friend who gave Koko the Koala, your blind items provided the much-needed sense of humor in one of our darkest hours.
Of course, we are forever indebted to
SkyClad
and
GM Tristan
. Their selfless acts of kindness made this ordeal much, much bearable.
By the way, here's the long-overdue pic of Issen with "Senator" GM Tristan during one of our company events at Robinson's Galleria. Senator,
salamat sa
pork barrel.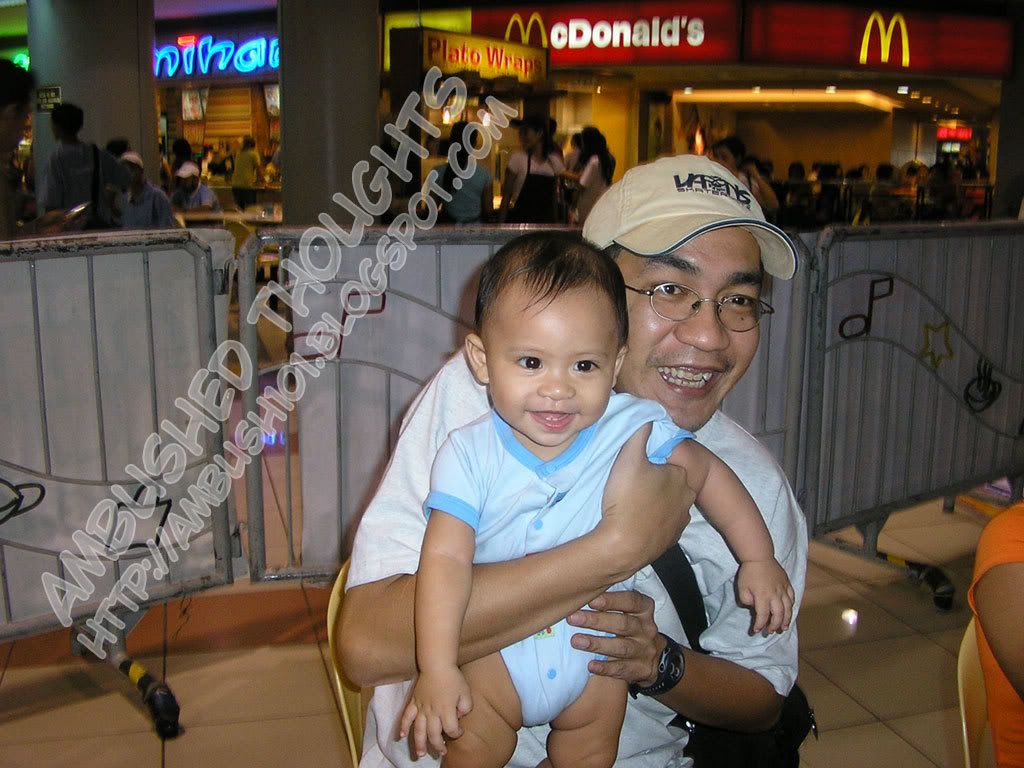 's thoughts were ambushed at
7:13 PM