Ever seen wedding cakes like these?
Tuesday, October 16, 2007
Many people say that a wedding is a celebration of love between two individuals, so it's just fitting that the wedding details represent the couple.
Among the many interesting things during our wedding, my favorite is our wedding cakes. As I am not into anything ordinary, especially when it comes to something as important as my wedding, our cakes represent things that Mr. Frost and I enjoy doing together. Without further ado, I present to you, if you haven't seen it yet, the Frost wedding cakes.
(Click images to enlarge)
LAPTOP CAKE
Mr. Frost and I are crazy about computer gaming. We have spent countless sleepless nights with our friends playing. Naturally, we wanted a computer to be present in our wedding.
(Click here for our all-time favorite classic computer games.)
PLAYSTATION 2 CAKE
Another thing we are crazy about is console gaming. mostly we played PS2 games, becuase that's what we have (actually, the console was SkyClad's). So there goes our second cake.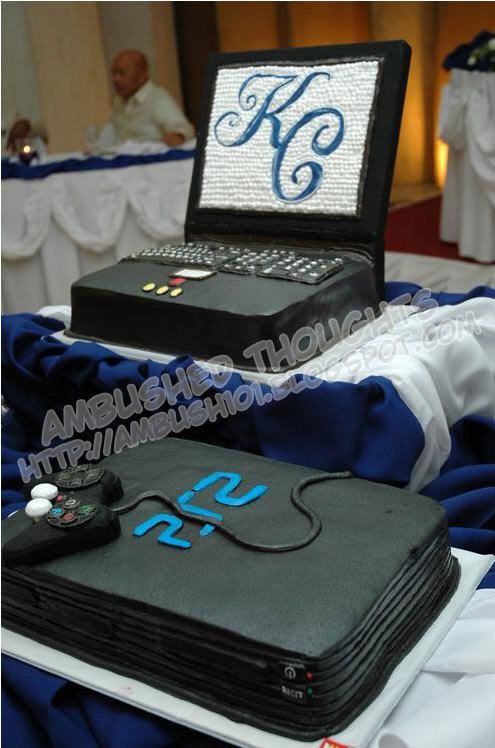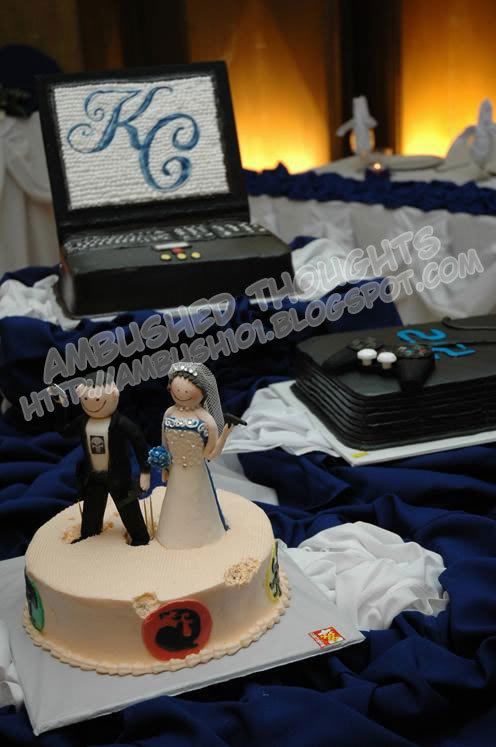 ROUND CAKE
Mr. Frost has been into
collectible card games (CCG)
, particularly
Magic: The Gathering
and
Legend of the Five Rings
. Months before the wedding, we spent hours thrash-talking each other while playing Magic. So as base for our cake toppers, I opted for a simple round cake with the five Magic mana symbols on the side.
CAKE TOPPER
I didn't want the usual generic bride and groom cake topper. Luckily, there are many confectioners/bakers who do customized cake and toppers. I wanted The Punisher in a suit as the groom, and a bride posing like Sandra Bullock in this Ms. Congeniality poster. My supplier gave me something which was not exactly what I had in mind, but the small guns they provided were good enough to make up for it. It still looks cool, though.
The cakes, by the way, were done by the famous cake supplier for stag and hen parties, and other adult cakes,
Kink Cakes
. :) They really did a great job.
There are more interesting details in our wedding, and I'd share them on my next post.

's thoughts were ambushed at
6:40 PM