The Christmas Party
Thursday, December 20, 2007
We had our company Christmas party last December 18, 2007 at Bagaberde Grill and Bar at the CCP Complex, Pasay City.
The organizing committee implemented an 80's theme. I looked for something in my closet but the things I found didn't fit my pregnant belly anymore. So, I just borrowed my mom's black leggings, put on my long brown blouse, bought some accessories from Landmark, and the result is a walking sprinked chocolate excuse of a pregnant woman.
The pose here is so NOT me. Everybody's saying I look so kikay (girly) here.
I had a real great time at the party. Aside from the bands that performed (man, my officemates are soooo talented!), I most especially enjoyed the speech of one of our top executives, our Gameboss. As usual, the speech was very inspiring and motivating. No company function is complete without the Gameboss' very moving talk. Actually, it's like listening to a stand up comedian but wherever you are, whatever function or event is being held, he makes you wanna go back to the office and work your ass off and you actually feel good about it. That's how motivating his words are.
Anyway, his speech was immediately followed by the performance of band that is already part of our family,
Kamikazee
. And it was so weird that Baby Frost #2 was going crazy and moving all around inside my tummy while the band was playing. After their performance, I went in Bagaberde's "holding" room for bands and good thing Patrick (our company's official band "supplier" for events) was a good friend of mine that I was able to get a photo op with the band. Here I am sharing the band with Marjo and CJ.
They guys were a riot. Our conversation while I was in the room was really hilarious, but I can't share it with you, lest I take the risk of being banned for "not wholesome" content.
Part of it, though, was Patrick informing the band that I also had my picture taken with them back in September 2006 during one of our major events. I was pregnant then with Issen. A funny coincidence that I'm pregnant again now that our paths crossed again. You could just imagine the band's reactions, most especially Jay, the vocalist. None of them is wholesome.
Another funny thing was the guys took turns touching my tummy lightly, then Baby Frost #2 said hi to them by moving wildly. The guys were surprised and made various comments on what they think the baby is trying to say.
By the way, here's my picture with Jay and Jomal (the guitarist) back in 2006.
And that's Pam in her pre-Zhen Zhou era.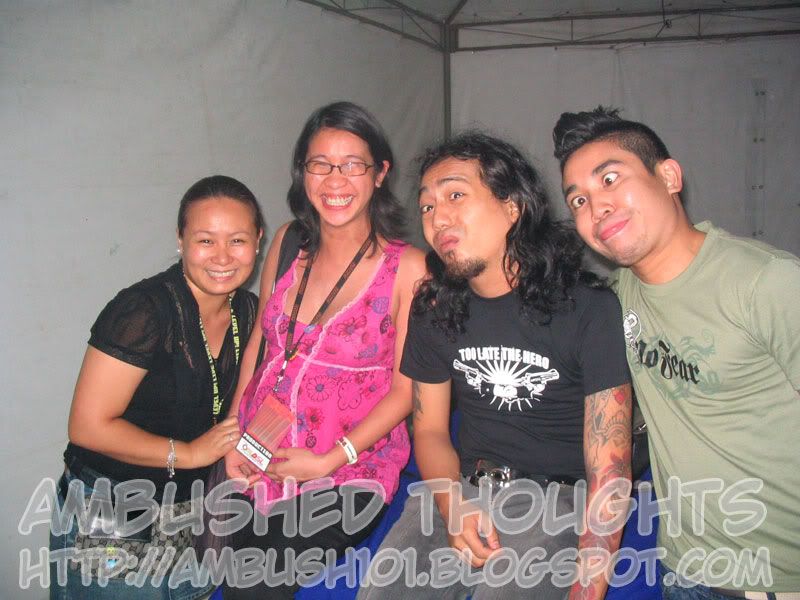 Anyway, another highlight of the party was the announcement of the Employee of the Year awardees. In the previous years, only one employee is given the award, across all departments. Each department has a nominee, though. And Mr. Frost has always been his department's nominee (Product Development in 2005 and Marketing in 2006). This year, they gave one award for each department, and I'm so proud to announce that Mr. Frost bagged the
Employee of the Year Award for Marketing 2007
. Yey! Way to go, Daddy!
I'll post the awarding pic as soon as I get it. I was taking pictures for our Marketing Director's camera that time because he had to go up on stage. Good thing too, or else Mr. Frost wouldn't have a pic of that proud moment.
Labels: about me, celebrities, christmas, entertainment, friends, frosts

's thoughts were ambushed at
10:52 PM