How I discovered the wonder called online shopping
Wednesday, October 11, 2006
Since the beginning of the week, I've been reading my pregnancy books again before I go to sleep. This time, I gathered enough courage to read about labor pains and what to expect on delivery day with hopes of arming myself with the best preparation I could have for that anticipated-slash-dreaded day.
Those nightly readings just worsened my sleepless nights as I often dream about going into labor and having a difficult delivery.
With about 31 days till Issen's estimated arrival, I can't afford to lose my nerve and be eaten by my fear of the unknown.
So what do I do to forget about my distress and focus instead on preparing for Issen?
Shop.
In the comfort of my office chair.
I have my
checklist
and I drive myself crazy planning when to get everything ready. By the way, I've updated Issen's
wishlist
and added more stuff that, although we plan to get on our own, we'd appreciate very much if given as gifts.
Since last week, I've been browsing through
ebay.ph
in hopes of stumbling upon some things that we need but isn't on my list. Of course I did find something: more clothes for Issen.
Most of the things I've bid on are overalls and booties. I've already won some of them. For the rest, I'm the only bidder so I'm basically just killing time till those items are mine. And crossing my fingers that nobody outbids me in case they saw the items.
Here's one of the things I've won and already paid for.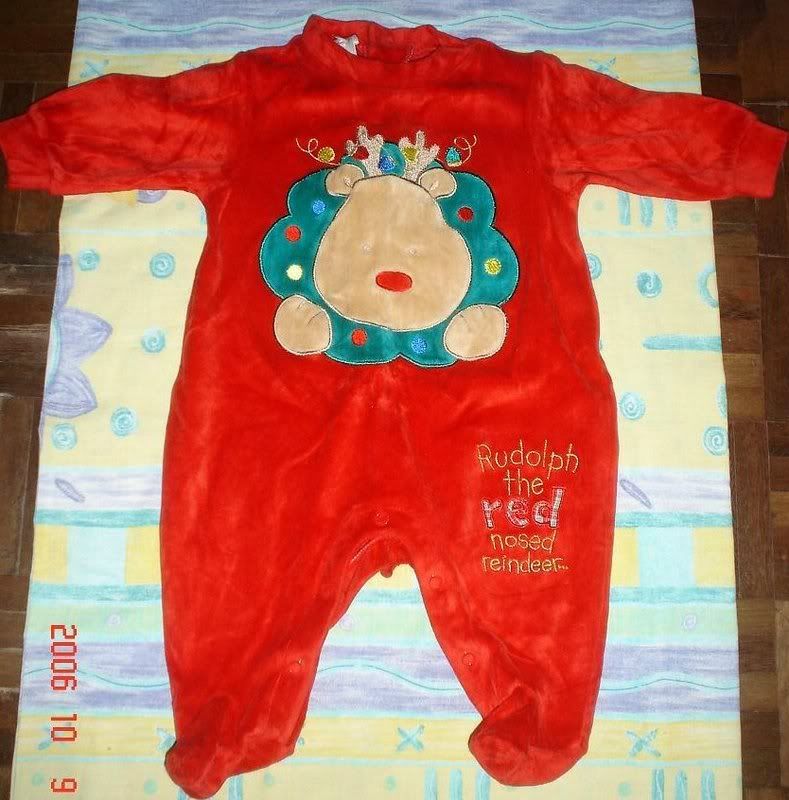 Isn't it cute? It'll be perfect for Issen's first Christmas. And I got that for
P179.00
, including the shipping fee. Not bad.
Here are some of the other items I've won.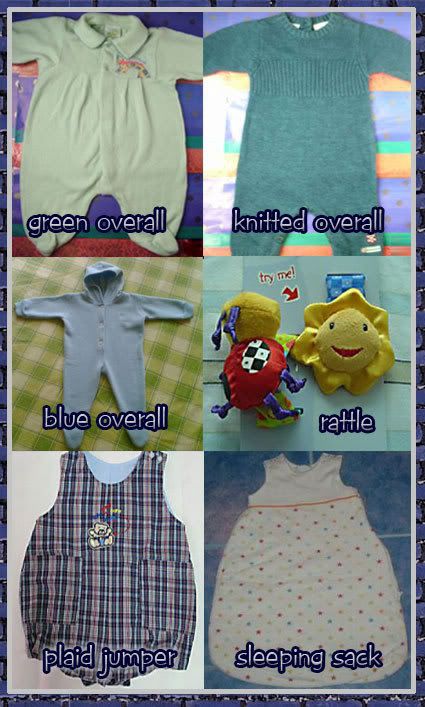 The items that are still up for bidding are way cuter than these, and I can't wait for the auction to end this Saturday. I'll post the pics as soon as I win them.
Yes, I know. It seems that I bought a lot. But really, the total amount of everything I'm buying would not reach a thousand bucks. I may have enjoyed online shopping a bit, but I still know the length of my rope.
Mr. Frost, before you flare up and give me your lecture on impulsive buying, please remember that I did this to keep myself from giving you a piece of hell for no apparent reason. Whatever you say, you will not win an argument with a pregnant woman.
(Ha! I've been waiting to say that since I read somewhere that pregnant women are immune to contradictions!
)
May I also remind you that one of my would-be purchases is a rare PS2 joystick.
As you always say, in the words of Sheryl Crow the wise:
If it makes you happy, it can't be that bad.
And I do feel happy getting stuff for
our
baby.
That's it for today. Actually, something else is new this week, but I doubt that you'll be interested in our department's new room in the office.
Labels: Issen

's thoughts were ambushed at
7:05 PM