Issen's wraps
Wednesday, September 06, 2006
Last Saturday, before doing our grocery shopping, Mr. Frost and I went to SM Makati's baby section (but only after a short visit to Toy Kingdom's Gundam section
) to check out some stuff for Sikei and Issen. We promised Sikei we'll get him a gift (he wanted new booties) for his birthday, which is tomorrow.
So we got him a couple of new booties. Then Mr. Frost found these really cute
Superbaby
shirts. As in baby clothes with the Superman logo on 'em. Here's Sikei wearing his sleeveless Superbaby tie-side at his "throne" at the office, with one of his new booties and new cap, posing with
some
of his toys at the office.
(Thanks to officemate Pam for lending me her
cellphone ng mayaman
to take this pic.
)
Yes, he has his own seat at the office, and yes, he has some more toys on the other side of my table
We got him another sleeveless shirt, I'll post the picture some other time. And Sikei, ever the good boy, said he'll let his baby brother Issen borrow his clothes.
Anyway, come Sunday, my mom and I went to this shop in Bel-Air (which, by the way, is very much famous among the
N@wies
) that sells export overruns of baby clothes. They have Carter's, Peter Rabbit, Martha Stewart, Magic Years, Baby Starters, etc. (burp cloths, bibs, onesies, booties, starter packs, etc.)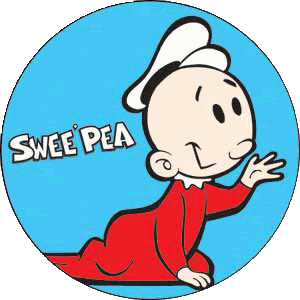 And sure enough, they were sold by the factory price. For about
P1600
, I was able to take home (all of them branded):
- 3 receiving blankets
- 2 hooded blankets
- 4 pairs of booties
- 3 pairs of mittens
- 4 onesies
- 2 sweaters
- 2 bonnets
- 2 shirts
- 1 pack of 9-pc starter set that includes 1 burp cloth, 1 bonnet, 1 blanket, 2 shirts, 2 bibs, and 2 "shorts"
- 2 pieces of what I call Swee' Pea's clothes. They're actually called sleeping gowns, but I prefer my term.
Check out the pics. I owe these pics to fellow N@wie Pat. Sorry, Pat, if I got to post them just now.
See the gray onesie in the middle? It has a matching gray bonnet/cap, and yes, that matches with Sikei's striped cap!
The yellow thingies on either side are the ones I call Swee' Pea's clothes
The 9-pc starter set, all laid out but I forgot to include the burp cloth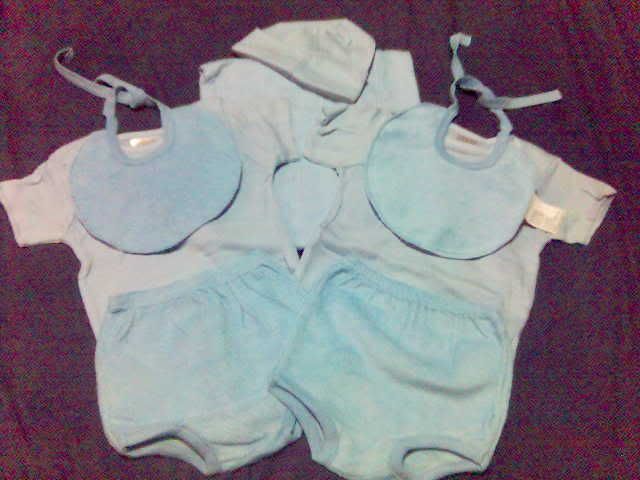 The 9-pc starter set, the burp cloth is here but the layout didn't show the blanket. I can't be a photographer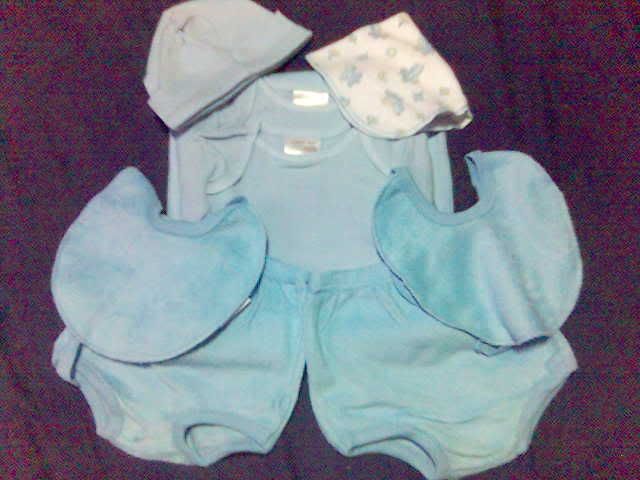 *My apologies for the low quality of the images. I can't make my brother's digicam work properly so I had to use my
barriotic
camera phone to take the pics.
I forgot to take pictures of the booties and mittens. Sorry.
There, we have something to put on Issen when he comes. We also have half a dozen Gerber bottles, an early gift from Issen's godfather,
SkyClad
, and a diaper disposal system.
Watch out for my post about everything we have so far in preparation for Issen's arrival.

's thoughts were ambushed at
6:19 PM