#7 - Beautiful things come in three's...
Monday, July 17, 2006
Seven days to countdown...
Day #7
on our countdown will be marked by one of things I treasure most in my life:
FRIENDSHIP
.
One of the things people should know about me is that I am more comfortable with guy friends than girl friends. It's probably because I grew up with four brothers that I find guys more fun than girls.
But I do have girl friends. And the few of them I cherish so much.
While growing up with my four insane brothers, I also grew up with these two wonderful ladies:
Jeng, Pie, and the Goddess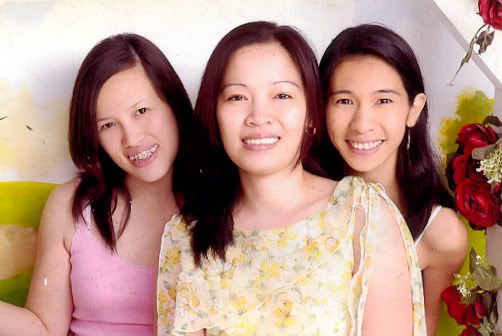 Pie is busy digging up oil in the Middle East.
She's a nurse, actually. Jeng is migrating to Las Vegas soon, to be with her husband.
These are the sisters I never had. We shared so much memories our bond is as thick as that of sisters. We knew each other way before we understood the meaning of FRIENDSHIP.
The picture, by the way, was taken last year, when Pie went home for a short break, just before my wedding. Unfortunately she wasn't able to attend the wedding because she had to go back dig for oil about two weeks before my big day.
I miss them so much...
Fast forward to college...
The three dynamic forces, Roselle "Shala", "Ambush", and Agnes "Tisay"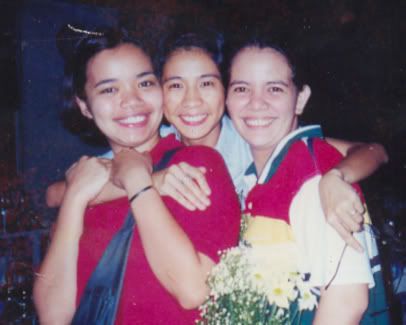 Agnes is in a provincial assignment by her company. Roselle has been living in California for several years now.
These two women showed me, in my young, innocent age of 18, how fucked up life can be and helped me grow up into a strong woman who can face life's cracks like a man.
One thing that I will never forget about the three of us is our month-long roadtrip. For one whole month, we were together 24/7, along with a couple of guys, and hopped from Cavite to Pampanga, from Quezon City to Subic. The story of our adventure with what we called the
Batmobile
is something we would be telling our grandchildren come our white-hair days.
I miss them so much...
This next group is composed of more than three people, but this will complete this post's theme of three.
The controversial, star-studded Wednesday Group
Standing L-R: O'neil, Toto, Taryn, Yayie, Don, Crystal, and Alex.
Our group bonded when we were all officemates in my previous company. Remember my post
Nostalgic
? These were the guys I shared those geeky leisure time with. Except for the girls, although Yayie and Crystal joined us a couple of times for some movies.
Thank God for my friends, whom I have considered as my brothers and sisters, my family.
I miss them so much...
I wish I could celebrate my birthday with all of them. That way, they can chip in for the drinks and food. And we'll all get drunk and bloated. And they'd bring me lots of gifts.
I could already hear
Simon Woo, Nocturnal Sun, and SkyClad
shouting in unison:
"ASA!"
(Dream on!)

's thoughts were ambushed at
6:09 PM