Hero
Thursday, July 13, 2006
I took a break from my usual playlist of classical music and listened to my favorite tunes.
I was caught off guard by one my favorite songs of all time,
Hero
, official soundtrack of
Spiderman
the movie. Sung by
Chad Kroeger
of
Nickelback
and
Josey Scott
of
Saliva
, the song would have made it to our wedding playlist, if not for the lyrics, which is not really suited for such occasions. But there is no doubt Mr. Frost and I love the song to our very soul.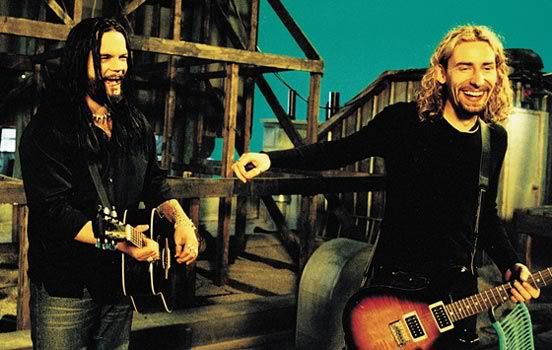 Josey Scott and Chad Kroeger during the
Hero
music video shoot. Seriously, they remind me of Jay and Silent Bob.
I am always blown away by the intensity of the song. ALWAYS. Every time I listen to that song, I experience a different kind of "high" that I stop whatever it is I'm doing and savor the beauty and soul of the song. It may not be appropriate for a wedding, but the message of the song moves me in ways that even I cannot explain.
"Now that the world isn't ending
It's love that I'm sending to you
It isn't the love of a hero
And that's why I fear it won't do..."
*Click to see the complete lyrics of the song.
Don't take my word for it. Have a taste of this wonderful music I'm talking about.
Click on this post's title if you are having trouble viewing the video here.

's thoughts were ambushed at
11:02 PM