The Goddess is high!
Friday, June 30, 2006
When I woke up this morning, a little voice in my head told me that I was going to have a bad day. I woke up late and there was nothing to cook for Mr. Frost's breakfast but eggs. Indeed, the beginnings of a bad day.
But the Goddess in me opted to go against the forces of nature and decided to have a great day.
I brewed some coffee for Mr. Frost, as well as for my parents, who haven't had coffee yet. Then I woke Mr. Frost up, gave him his coffee mug, and told him to get dressed quickly because we're having one of his favorite breakfasts.
McDonald's Big Breakfast Muffin with strawberry preserve.
We took the cab and asked the driver to drive through McDonald's at The Fort. For Mr. Frost, he opted for the equally heavenly Sausage McMuffin with Egg for convenience. With strawberry preserve, of course. Not just one, but I got him two of that!
We ate our breakfast at the office, at our own workstations. Believe me, as soon as I finished eating, there was no doubt in my mind that this is gonna be one of the best days of my life.
Around 11am, our creative director asked me if I want to go to one of our projects' press conference at TGI Friday's Glorietta. I said, "Free food? Hell, yeah!"
So we went there. I helped a bit in preparing the goodie bags for the press, had looooooooots of iced tea, had fun at our picture-taking, and savored my free lunch
. I know I'm not supposed to eat lots of sweets, but their brownies were so delicious I had three.
Here are some of the pics during the presscon. I feel so good looking at these because they show that my face has filled up.
L-R: William, Toby, Joie, Pam, creative director Mark, and me.
No, I'm not hogging the goodie bags! I'm helping give them away! Really!
The TGIF staff are going crazy over our freebies, and there I was, showing everyone my underarms!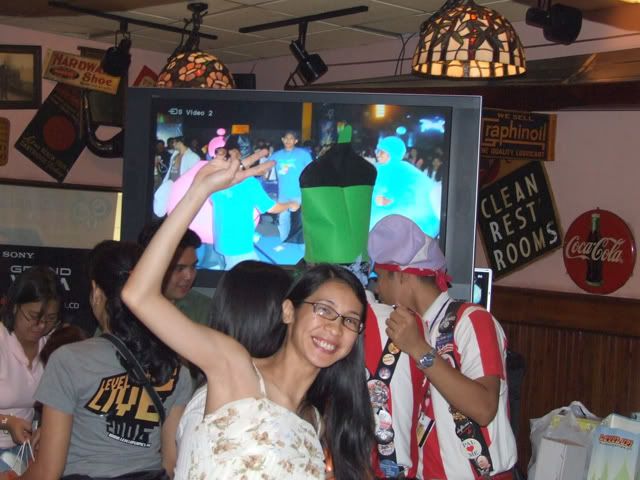 Here I am, messing up Patrick's shots! Hehehe!
Well, I'm really tired of people saying I don't look "pregnant" enough
, so if you still think nothing really changed on my appearance, you can keep it to yourself because you can talk all you want but I won't hear a thing
. I'm happy I gained weight, no matter how little, that I don't really care about what others may say.
The day isn't done yet but I am positive nothing can ruin my mood. Well, that excludes unexpected unfortunate events.
And I have DECIDED to have a great weekend as well. You guys have fun, too.
ROCK AND ROLL EVERYONE!!!

's thoughts were ambushed at
5:59 PM