(Should be) Currently reading...
Saturday, January 26, 2008
I've been either too lethargic or too preoccupied the past few weeks that I'm now way behind my reading. By now I should have finished reading two books that we got last Christmas. I wanted ot take pictures of the books I'm talking about, to put more good use of my camera, but as I've said, I've been feeling too lethargic to the simplest of tasks.
So I'll just use recycled images for now.
Here's a picture I took of Sikei holding
Kingdom Come
just after unwrapping his present last Christmas.
First things first, don't mistake Kingdom Come with a rapper's song (or is it an album?), the 2001 movie about a dysfunctional family (starring LL Cool J) or the glam rock band. The one I'm talking about here is the graphic novel published by
DC Comics
, the home of Superman, Batman, and their friends. Written by
Mark Waid
and illustrated by the legendary
Alex Ross
, Kingdom Come is set some 20 years into the future of the current DC Universe. And I quote from the ever reliable
Wikipedia
:
"...it deals with a growing conflict between "traditional" superheroes, such as Superman, Wonder Woman, and the Justice League, and a growing population of largely amoral and dangerously irresponsible new vigilantes. Between these two groups is Batman and his assembled team, who attempt to contain the escalating disaster, foil the machinations of Lex Luthor, and prevent a world-ending superhuman war.

The series draws heavily on biblical apocalyptic imagery, especially that of the Book of Revelation."
I just finished the first chapter and I've just started on the second chapter so I am in no position to judge how it is. Actually, I don't think I'll ever have the right to judge if a graphic novel is good or not. I just don't think I'll be good enough.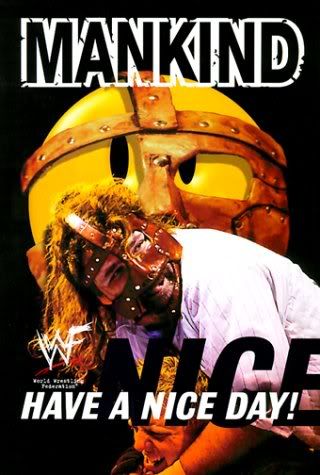 The other book that I should have finished already is Mick Foley's
Have a Nice Day : A Tale of Blood and Sweatsocks
.
Yep. Entertainment wrestling legend
Mick Foley
authored several books, and this is one of them. "It's the best autobiography I've ever read," were the words of Mr. Frost the wise. We were browsing through stuff at Fully Booked and he showed the book to me, which was to become one of his Christmas presents for me. Mr. Frost read the book again, usually during his restroom time just before taking a bath, and he finished it a couple of weeks ago. I'm still on page 17.
It's not that I don't find them interesting that's why I haven't finished them yet. I haven't stopped reading them. It's just that I have too much stuff on my hands and it's sad that I had to give up a lot of reading time.
I don't know how other moms do everything - attend to their husbands and children, do the housework, have a career - and still have the time and energy for some "me" time. I really envy those kinds of women, but that's another story.

's thoughts were ambushed at
9:32 PM