My curse.
Friday, March 07, 2008
Summer is a few days away and talks of the beach and outings are all over the place.
I used to love summer, but now, I can't stand hearing people talking about the company outing or wherever they'll spend their summer vacation. Why?
Because this is the third time that I can't join the company outing. Three years in the running.
Summer outing of 2006, I was just 3 months pregnant with Issen. We did't go because Mr. Frost and I decided that the 4-hour travel won't be good for me and the baby. Find out
here
what we did instead. Don't worry, it's wholesome.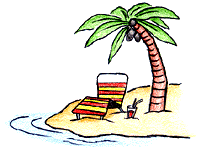 Summer outing of 2007, Issen is already almost 7 months old. Unfortunately, the company outing coincided with the wedding of Mr. Frost's sister. The wedding was held in Laoag City, a city about 12 hours drive from Manila. The outing was scheduled on the day of our flight back to Manila from Laoag, so we were still planning to go to the company outing. However, when we got home, we were so damn tired that we can't bring ourselves to travel another 4 hours on the road even if our travel back to Manila just took us about a couple of hours by plane. So there, we weren't able to go.
This year, I will be giving birth to Kobe by early April or late March. And needless to say, I will not be in shape to go to the company outing by mid-May. I doubt that my body will be physically ready for several hours of travel to the beach, let alone for the activities in that outing. And even if my body can take that beating after pushing out another life from my body, I don't think I can leave my newborn Kobe for a couple of nights. I don't think so.
So there. I've actually accepted my fate. My curse. That I am not meant to join the company outing. For three years in the running.
Who knows what will come up next year to prevent me from going again?
Before I go, lemme share this cartoon with you. Something that I long to experience.
Credits go to University of Rochester Outing Club and PhoneyBusiness for the cartoons used in this post.
Labels: about me

's thoughts were ambushed at
6:15 PM