Guinness World Records - Gamer's Edition
Wednesday, January 30, 2008
Here's something for my fellow gamers (at least I think I still
am
a gamer
).
Click on the image to see the book preview.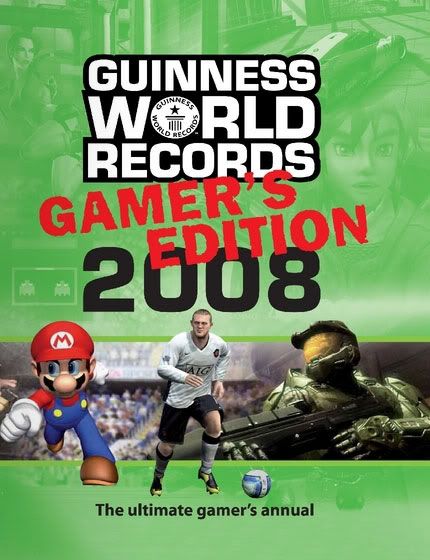 The
Guinness World Records - Gamer's Edition
is set to be released February 8 in London and March 11 in the US. According to
Wired.com
:
The book, like its general interest predecessors, will focus on the miscellaneous (yet critical) trivia surrounding gaming, including such critical information as "What is the fastest Sonic the Hedgehog completion time?" and "How much pizza did Bungie eat during the development of Halo 3?"

To celebrate the release of the book, the Guinness folks are hosting the "Guinness World Record Guitar Hero Marathon Relay," a record-breaking attempt at gathering Guitar Hero players from all over the world to play a cooperative marathon of Guitar Hero III songs.
The book features record-breaking games based on different categories:
Action/Adventure - Tomb Raider and Myst, among others
Shooting - Counter-Strike and Halo
Platform - Super Mario and Donkey Kong
Sports - Tennis games
Racing - Trackmania and Mario Kart
Indeed the gaming industry has become significantly popular that nobody can ignore or deny its influence in the world. Here's a statement from Guinness World Records regarding the release of their Gamer's Edition, from
Gamepro.com
:
"So why has Guinness World Records, the world's best selling copyrighted book, expanded into the world of gaming?" muses Guiness in a statement. "Because the gaming industry is too big to be contained in just a few pages of the annual book. As gaming records are one of the largest sections in the Guinness World Records database it only made sense to create the Gamer's Edition to highlight the amazing facts and figures that have made the gaming industry what it is today."
Enough said.

's thoughts were ambushed at
5:55 PM